Bulk SMS WordPress Plugin can power your wordpress a mobile conectivity by RP SMS bulk sms api. Just upload our plugin and simple follow our instructions and start within minutes.
Bulk SMS WordPress Plugin
1- Contact form 7 sms plugin:
(SMS can send to website owner & Visior in a single hit.)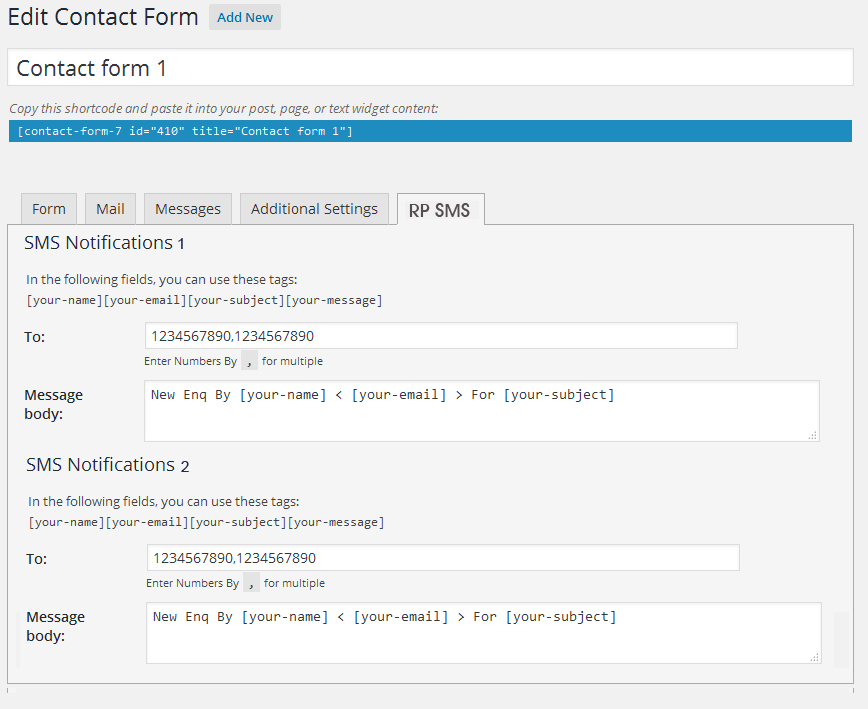 2- Woo Commerce sms plugin:
(Add to your WooCommerce store SMS notifications to your customers when order status changed and many more.)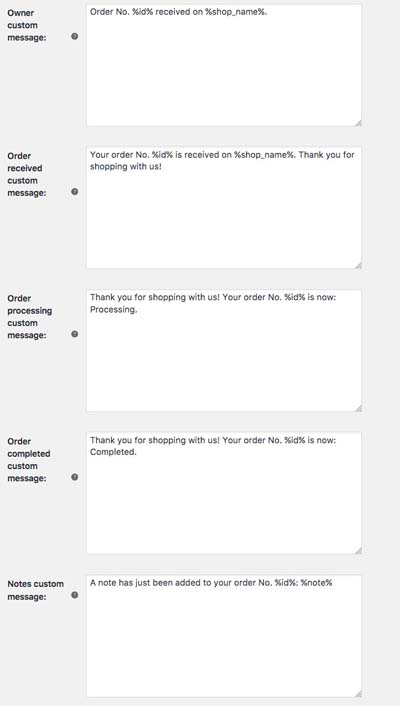 Require WooCommerce 2.1.0 or higher.
Add to your WooCommerce store the possibility of send SMS notifications to customer every time the order status changed. Notifies the owner, if you desired, when the store have a new order.
1- Possibility to inform the owner or owners the store about new orders.
2- Possibility to send, or not, international SMS.
3- Possibility to notify to shipping phone number, if it's different from the billing phone number.
4- Support custom status from WooCommerce Order Status & Actions Manager and WooCommerce Advance Order Status plugins.
5- Support for custom order numbers from WooCommerce Sequential Order Numbers Pro plugin.
6- Automatically inset the international prefix number, if it's necessary, to the customer's phone number.
7- Notified by SMS the customer notes.
8- All messages are customizable.
9- You can choose which messages to send.
10- Supports a large number of variables to personalize our messages: %id%, %order_key%, %billing_first_name%, %billing_last_name%, %billing_company%, %billing_address_1%, %billing_address_2%, %billing_city%, %billing_postcode%, %billing_country%, %billing_state%, %billing_email%, %billing_phone%, %shipping_first_name%, %shipping_last_name%, %shipping_company%, %shipping_address_1%, %shipping_address_2%, %shipping_city%, %shipping_postcode%, %shipping_country%, %shipping_state%, %shipping_method%, %shipping_method_title%, %payment_method%, %payment_method_title%, %order_discount%, %cart_discount%, %order_tax%, %order_shipping%, %order_shipping_tax%, %order_total%, %status%, %prices_include_tax%, %tax_display_cart%, %display_totals_ex_tax%, %display_cart_ex_tax%, %order_date%, %modified_date%, %customer_message%, %customer_note%, %post_status%, %shop_name%, %order_product% and %note%.
Like Bulk SMS WordPress Plugin Also we have plugin & addons for whmcs & excel